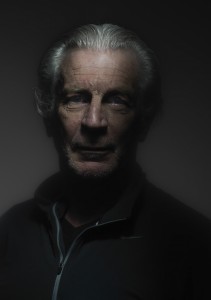 Soho Honey – Book Cover design & Identity by Alistair Nash. Cover Photograph by Jonathan Knowles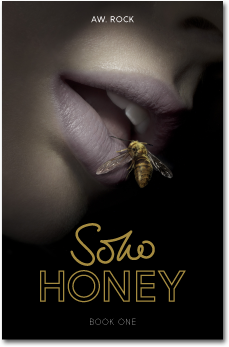 About A.W. Rock
Based in London A.W. Rock has been a regular in Soho working in film, television and advertising.
A.W. Rock has directed a wide range of music promo films and over two hundred TV commercials worldwide. Working in a variety of locations he has made commercials for General Motors in New Zealand, American Express in New York and Dyson vacuum cleaners in England. A commercial he made for The Royal Tournament was nominated for a prize at the Cannes Film Festival. He also directed several thirty minute commercially financed dramas.
He made his first theatrical drama – Deus ex Machina – a short film which won 2nd prize in a national competition sponsored by Channel One TV – Prize Shorts. It was also chosen by the British Film Institute, from over 300 shorts, as one of eight international films to tour the country in the Brief Encounters Festival. It later was shown by the BFI on a worldwide tour.
This film received critical acclaim and was judged
" Very accomplished and remains in the memory " by Derek Malcolm the Guardian film critic. 
This film has appeared in several other international film festivals.
He started his career as a professional photographer based in England and working all over the world, for most of the major advertising agencies in stills and film. These include J. Walter Thompson, Saatchi & Saatchi, Ogilvy & Mather, Young & Rubicam, McCanns, Bogle Bartle & Hegarty and many others. Inspired by fine art his work shows a strong approach to lighting and composition.
His awards include:
1st prize – Professional Portfolio Awards for Advertising and Fashion.
1st prize – Direct Marketing Award for Peugeot cars.
1st prize – Pegasus Advertising Awards for Dyson advertising.
3rd prize – John Capel International Awards for The Economist Magazine television and cinema commercial.
He is shooting stills and making TV commercials and has an extensive portfolio of stills, both editorial and advertising, and had an exhibition of his work at 'The Special Photographer's Gallery' in London.
Inspired by fine art his work shows a strong approach to lighting and composition.
A screenplay of Soho Honey is in the planning stages.
He has written his first novel, Soho Honey, and is currently working on book 2 and a 60-minute pilot for a television series, Lying Low in Soho, that incorporates the characters from the two books but with a new storyline.
For film and media enquiries click here