Publication Date Thursday 5th May
Blog Tour 29th April  – 13th May  
Daughter brutally murdered, and his clandestine past closing in on him, leaves ex-convict Branen with no choice but to return to the streets of Soho one last time.
This contemporary crime story takes place over three weeks in November and unfolds against the multi-cultural backdrop of Soho, London.
Soho Honey is available as an audio book read by actor Jay Villiers.
"I have now read the novel myself and I think it's very good. I will not be the only publisher who finds it first rate."
Christopher MacLehose,
Publisher of The Girl with the Dragon Tattoo part of Stieg Larsson's Millennium Trilogy
---
Soho Honey book trailer
For a taste of Soho Honey watch the 1min 30sec trailer capturing the energy of Soho street life and it's dark influences of drugs, sex and crime
Available now to pre-order
Soho Honey by A.W. Rock is a dangerous, seductive and highly addictive debut novel and the perfect next read for fans of serious crime thrillers.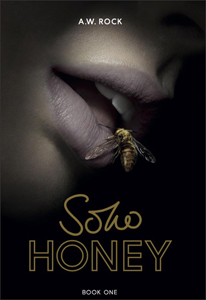 Soho
Soho is a village within the heart of London.
Entering Soho there is a change of atmosphere from London's congested metropolis.
Soho is full of contradictions. Beneath the sociable veneer of the cafés, bars and restaurants there exists an underworld of crime and a thriving drug industry.
After spending too much time in the clubs and bars of Soho, and meeting many eccentric people, A.W. Rock was driven to tell a story that is in part drawn from real events.